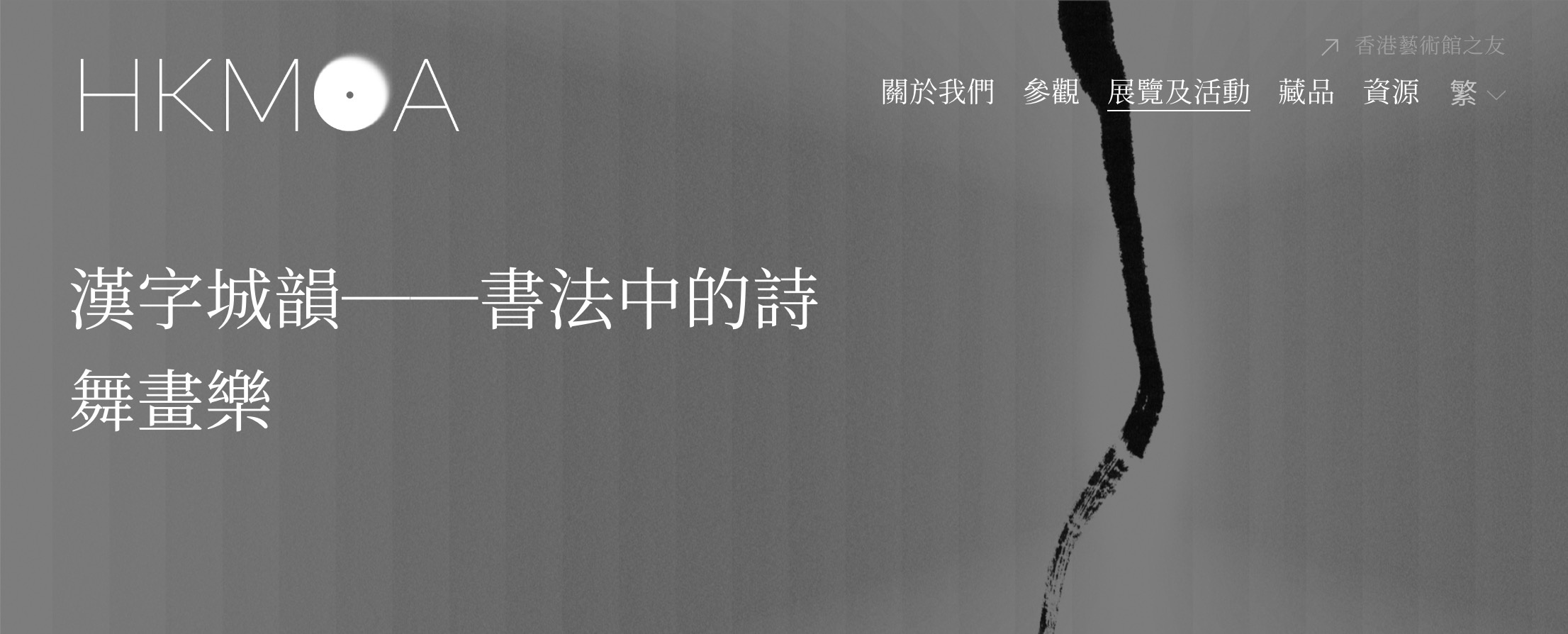 Hong Kong Museum of Art "City Rhythm"


The works of our artist Fung Ming Chip (b.1951) "Border script-sound seeing" (1998) and "Heart Sutra" (2010) are presented in the exhibition of Hong Kong Museum of Art "City Rhythm". This exhibition features over 70 artworks by Hong Kong artists from the collection of the Hong Kong Museum of Art, including Deng Erya (1884 – 1954) "Poem in seal script", Au Kin-kung (1886 – 1972) "Couplet in regular script", Ou Dawei (1947 – ) "Poem of orchid in clerical script", Luo Shuzhong (1898 – 1969) "Couplet in clerical script", Jao Tsung-i (1917 – 2018) "Gold calligraphy in oracle bone script", Chao Shao-an (Zhao Shao'ang) (1905 – 1998) " Poem in running script", and Chui Pui-chee (1980 – ) "Lyrics of Tourbillon by Wyman Wong in cursive script". By exploring the interplay between calligraphy, prose and poetry, dance, painting, and music, the exhibition offers visitors a unique opportunity to discover the essence of calligraphic works through the lens of their own experience and interests, while re-examining the significance of preserving our cultural tradition amid the constant advances of technology.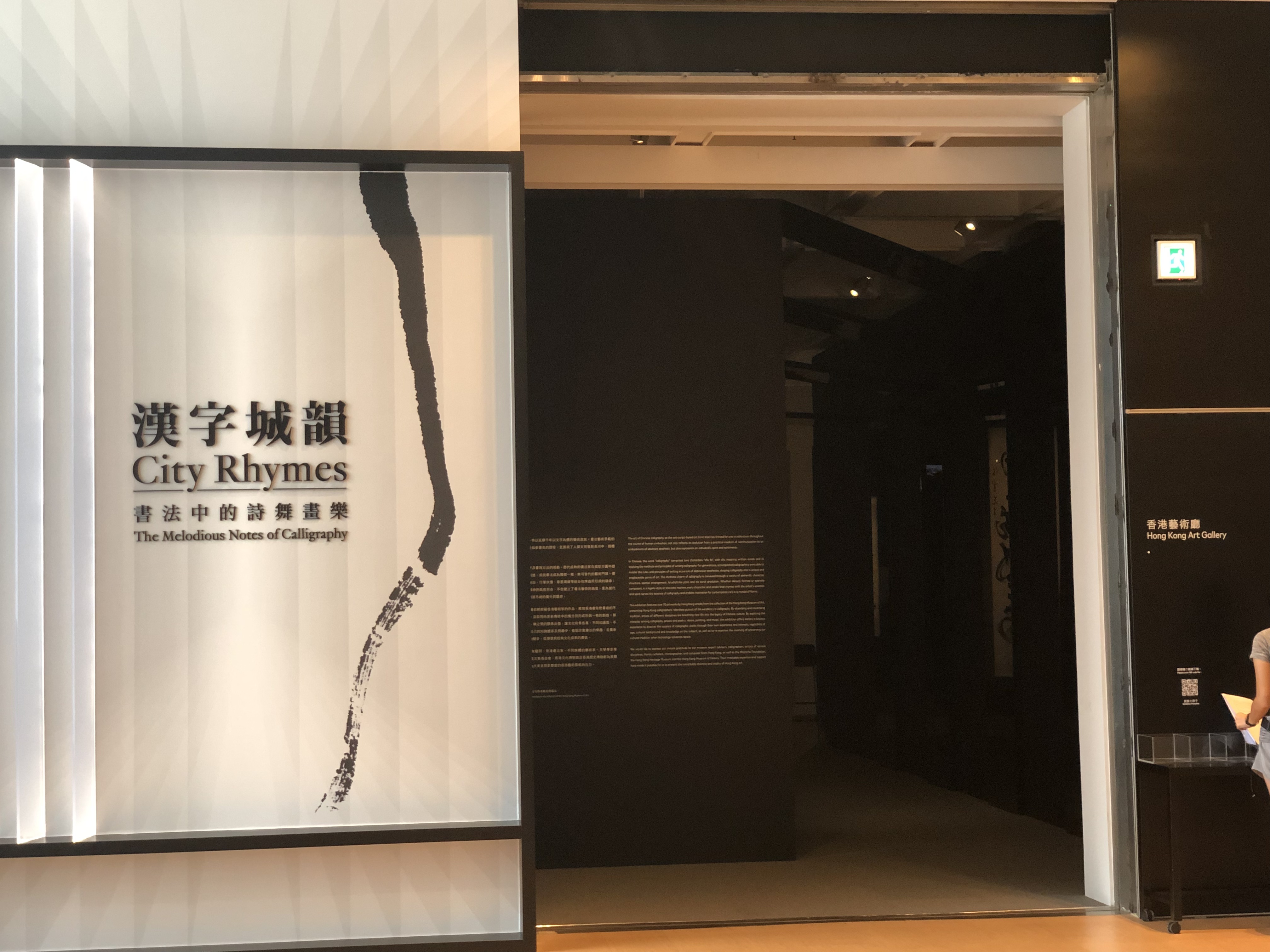 Hong Kong Museum of Art "City Rhythm" ©
Courtesy of Artist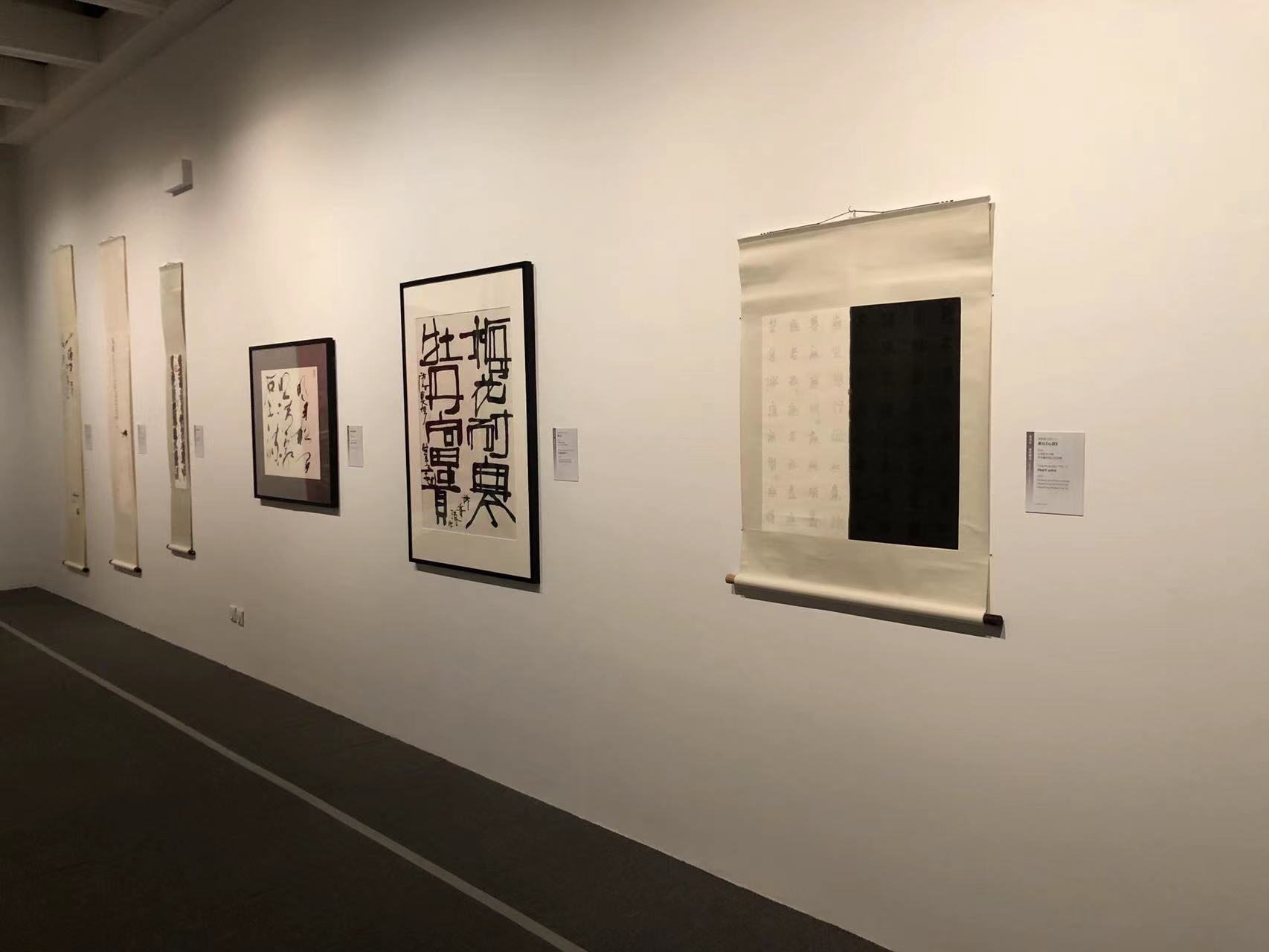 Installation view ©

Courtesy of Artist

The art of Chinese calligraphy, as the only script-based art form that has thrived for over a millennium throughout the course of human civilization, not only reflects its evolution from a practical medium of communication to an embodiment of abstract aesthetic, but also represents an individual's spirit and sentiments. In Chinese, the word "calligraphy" comprises two characters "shu fa", with shu meaning written words and fa implying the methods and principles of writing calligraphy. For generations, accomplished calligraphers were able to master the rules and principles of writing in pursuit of distinctive aesthetics, shaping calligraphy into a unique and irreplaceable genre of art. The rhythmic charm of calligraphy is conveyed through a variety of elements: character structure, spatial arrangement, brushstroke pace and ink tonal gradation. Whether densely formed or sparsely composed, in a legato style or staccato manner, every character and stroke that rhymes with the artist's emotion and spirit serves the essence of calligraphy and endless inspiration for contemporary art in a myriad of forms.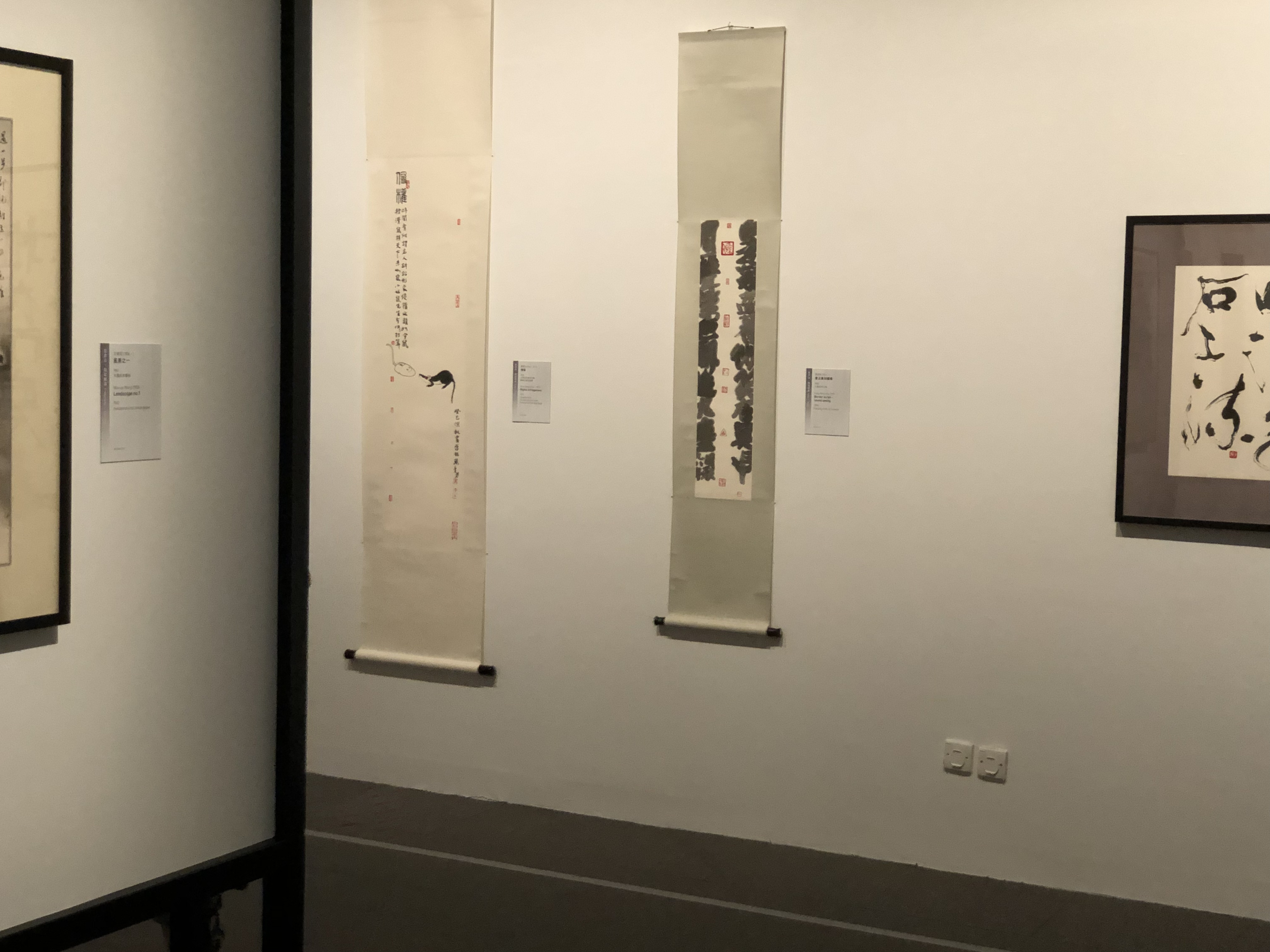 Installation view ©

Courtesy of Artist

This exhibition is divided into four sections; "Force: Dancing Lines of Motion", "Essence: Literary Realms of Prose and Poetry", "Composition: Imagery of Words", and "Resonance: Echoes of Lyrics and Sound". Fung's artworks were included in the "Composition: Imagery of Words" section. Calligraphy is the art of imagery that finds expression in all things. Chinese characters started off as pictographs. During the Shang dynasty, oracle bone script was invented as graphic symbols that convey meanings through their pictorial resemblance to physical objects and gradually developed into a fusion of pictures and symbols. For its richness in lines, forms, and visual qualities, the art of calligraphy has been a great source of inspiration for artists of all mediums. Artists have attempted to incorporate the pictographic nature of calligraphy into their paintings, apply painterly brushworks in their calligraphy, and translate the techniques and vitality of calligraphy into painting; some others focus on the composition and structure of words, infuse design concepts into the arrangement of characters and space, and forge refreshing artworks that reflect contemporary aesthetics. By blurring the boundaries between painting and calligraphy, these experiments have introduced new styles and perspectives to calligraphy, and opened up vast possibilities for the interaction between the two art forms.
Fung Ming Chip explores the aesthetic relationship between calligraphy and painting from the perspective of space and time. In his work "Heart Sutra", the calligraphic fonts seem to emerge from the space behind the frosted glass, leaving only the outer outline, and the paper records the traces of the disappearance of the words. Along with the writing sequence of the "Heart Sutra", the passage of time and the sequence of calligraphy characters are also presented. In the work "Border script-sound seeing", Fung transcended the subordination relationship between calligraphy seals and calligraphy works in the past, and arranged them in the center of calligraphy works as the core aesthetic factor of his calligraphy works. Through the processes of deconstruction and reorganization, the utilitarian function of words is removed, and the boundaries of calligraphy as a pure artistic medium are opened.

Artist Fung Ming Chip at the Exhibition

©

Courtesy of Artist




Fung Ming Chip was born in Guangdong Province of China (b.1951) and raised in Hong Kong. He is now based in Hong Kong after living in New York and Taipei. Apart from practicing calligraphy and seal carving, Fung also writes essays, fictions, and poems. Fung began carving seals in 1975. He holds the view that seals should be an art form independent from its impression-making function. To free seal carving from its functional purposes, Fung altered the structure of Chinese characters, compositions, the surface texture of woodblocks, and the materiality of seals. Since 1996, Fung has been devoting himself to calligraphy. Up until now, the artist has invented more than one hundred calligraphic scripts. Fung's works have been collected by a number of major art institutions, including The Metropolitan Museum of Art, New York; the White Rabbit Collection, Sydney; the Brooklyn Museum; the Philadelphia Museum of Art; the Israel Museum, Jerusalem, among others. Fung held a major solo retrospective at the Taipei Fine Arts Museum in 1999. He was an artist in residence at Cambridge University in 2004. In 2008, Hermes invited Fung to create a tableware pattern titled "Les Poemes du Mandarin".
---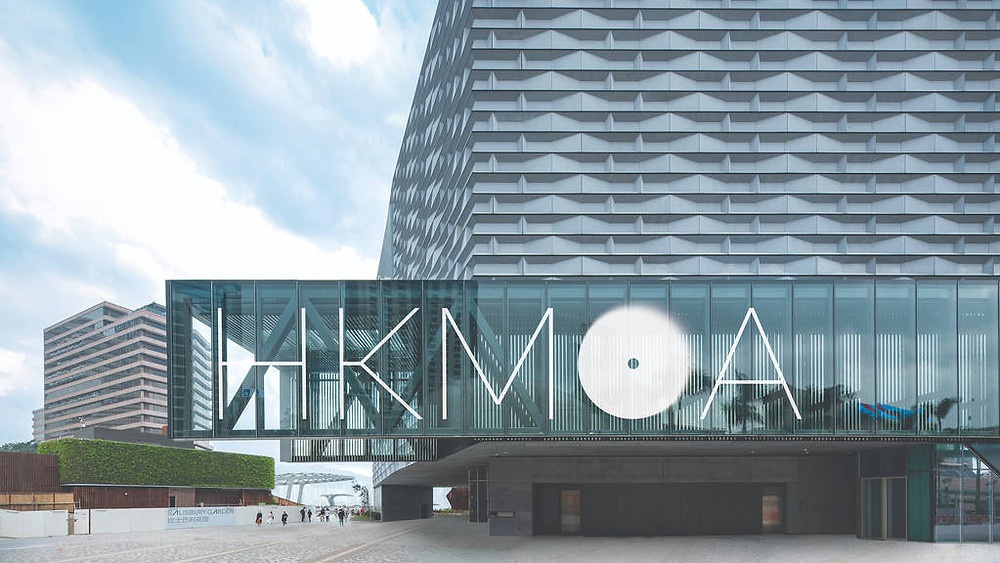 Established in 1962, HKMoA is the first public art museum in the city, now custodian of an art collection of over 17,000 items, representing the unique cultural legacy of Hong Kong's connection across the globe. By curating a wide world of contrasts, from old to new, Chinese to Western, local to international, with a Hong Kong viewpoint, it aspires to refreshing ways of looking at tradition and making art relevant to everyone, creating new experiences and understanding.

More about the Exhibition
August 17, 2022