"The Rain Freshens", Installation View, ©THE FQM,2022
FQM is honored to invite Yau Wing Fung (b.1990), a contemporary ink artist, to participate in the summer group exhibition: "The Rain Freshens 新雨后." Although Yau was unable to attend the opening in New York in person due to pandemic restrictions, FQM gallery assistant Christina Wu conducted an interview with Yau online.
Yau Wing Fung was born in Hong Kong, China, and is currently an Art History Ph.D. candidate at the Chinese University of Hong Kong. Yau's mediums range from traditional and contemporary ink painting to calligraphy, and mixed media installations. His earlier paintings fused traditional aesthetics with contemporary visual experiences, showing both the formal language of traditional landscape paintings, as well as compositions inspired by satellite imagery. However, his recent works have shifted focus towards exploring the coordination between the composition and harmony of smeared ink colors. Yau has had seven solo shows in New York, Hong Kong, and Macau. His works have also appeared in international exhibitions, including "Wu Bin: Ten Views of a Lingbi Stone" at the Los Angeles County Museum of Art. Yau's works can be found in both public and private collections, including the Los Angeles County Museum of Art, Hong Kong Museum of Art, Landmark (Hong Kong), and Cathay Pacific Airways.
As a new-generation ink artist, Yau is not preoccupied with age. He believes that a youthful mindset is what keeps one young forever. A youthful mentality manifests in a humble and studious attitude, which is more tolerant of differences in the world and more open to experimentation. Contemporary ink painting is heavily rooted in tradition; and so Yau believes that people who work in the medium should slow down their pace. In this busy modern world, Yau fully concentrates on his own creations. In this interview, we will learn more about Yau Wing Fung's thoughts as an emerging ink artist and how the contemporary social environment affects his creative philosophy.


"The Rain Freshens", Installation View, ©THE FQM,2022
---
Q: How did you first come into contact with ink painting?
A: In Hong Kong, ink painting is not very common. During my junior and senior high school years, I was mainly exposed to Western media and wanted to become a designer. Later, I chose ink painting because of timing and fate. Before I went to college, I happened to see Pan Tianshou's exhibition and developed an interest in ink painting. I was then introduced by a friend to Mr. Liang Linfa for the private study of the medium. Afterwards, I entered university and received formal ink painting training. The dual curriculum of creation and historical study provided me with the foundation for self-reflection and exploration. During my undergraduate studies, I also attended the Beijing Academy of Fine Arts to study ink painting. This series of experiences has gradually made me who I am today.
Pan Tianshou and his artwork
Q: In your previous series of works, you showed your interest in modern technology. What kind of inspiration does modern technology give you?
A: In fact, the impact of technology on me is very accidental; and it can be said that it has only a very indirect impact on my work. I am not familiar with the so-called technology. On one hand, its scope and dimensions are very wide, and it is also not the part I am familiar with; on the other hand, I am not necessarily concerned with its specifics. For example, I got some inspiration from the method used to record remote sensing images, which converts them into elements of the picture. Methods like this are another extension of observing nature. However, it is not a very new or high-tech concept, or even simple technology; but, it makes me feel the pause and passage of time, which is a more human side. We don't have to care whether we are inspired by technology or not; anything ancient or modern has the opportunity to become nourishment for my work.
Yau Wing Fung, Floating Mountain XI, 2022, Ink and Color on Paper, 27 1/8 x 54 in.


Yau Wing Fung,
Riding Mist XXI
, 2022, Ink and Color on Paper, 70 1/2 x 38 in, 179 x 96.5 cm
Q: In your previous work series, you have shown interest in satellite imagery. In your past interviews, you mentioned that you have different definitions of "Guan" and "Yuan", can you tell us about it? Did you do any experimentation in the works "Floating Mountain XI" and "Riding Mist XXI" in this exhibition?
A: My definition of "guan" is the so-called "viewing the small from the big," or "viewing the big from the small." Generally speaking, it is similar to putting landscapes in a bonsai so we can look down upon a complete picture. Ancient people often put different angles and spaces in pictures. I choose to extend my creation from that of our predecessors; in my works, it is difficult to see coherent rocks and spaces, and there is no clear mountain range. I want to present different aspects of a stone in the same space: this group of stones and other stones present different spaces. Some would describe me as a "Cubist," like Picasso. I'm not sure that I am, but I think there should be some connection. "Yuan" is a very abstract concept, almost like a spiritual realm. In the past "Floating Mountain" series, I used gold paint to outline the edges of the rocks. In the works in this exhibition, like "Floating Mountain XI," I tried to add silver paint for the separation and outlining of shapes. In "Riding Mist XXI," I reduced the use of smudges, and then used brushstrokes and ink to create a rocky texture. My reason is that I want to focus on a state where each stroke drives the next stroke.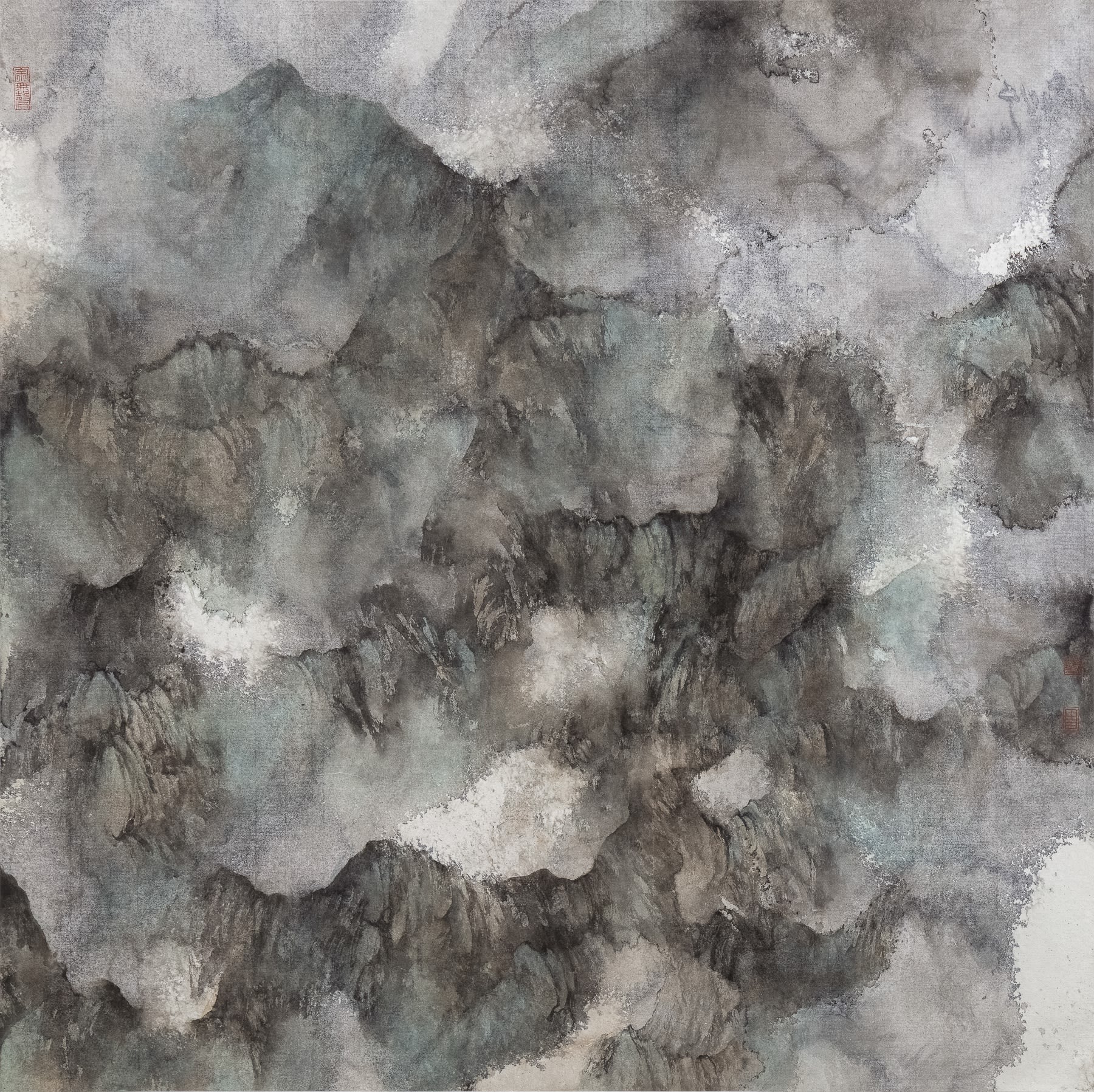 Yau Wing Fung, Hazy Cliff II, 2022, Ink and Color on Paper, 24 5/8 x 24 5/8 in, 62.5 x 62.5 cm
Q: Has the ongoing pandemic affected your personal life and creation? Has your current creative philosophy changed?
A: During the pandemic, the impact on me was relatively small, because I usually stay in the studio or at home to create. Before the pandemic, I liked to go out and observe places with only a few people. Maybe the biggest change for me was the way life slowed down, which forced me to pay more attention to the natural world around me, such as the flowers and plants, which produced a lot of different feelings [in me]. Remote sensing imagery was an early interest of mine during the pandemic, and over time, I slowly moved away from creating geometric shapes. I've been thinking about an ambiguous relationship that makes space both coherent and broken. The work, "Hazy Cliff II," in this exhibition shows a new state of my creation. In the past, I paid more attention to the composition and framing of the picture. But now, with the accumulation of my creative experience, I follow the feeling more; the transition between each stroke expresses my inner spirit and feeling in the moment.
| | |
| --- | --- |
| | |
Cicada pape, Image courtesy of Artist
Q: In your creations, there are many attempts that are different from traditional ink painting. What kind of rice paper do you generally use for your creations? Any experimental creations to share with us?
A: My early works used a kind of pimade xuan paper (熟宣), called thin cicada paper (蝉衣纸). Thin cicada paper is a very light and thin rice paper, with fine fibers, that makes it easy to copy with. Its thin and light nature allows me to add ink back and forth, and to create a more layered ink color overlay. Some of my later works use mica paper, which is a kind of rice paper made from muscovite. Because these papers do not absorb water, I can make a lot of experimental creations.
Yau painted on the cicada pape, Image courtesy of Artist


In the work "Hazy Cliff II," I first wet the cicada paper with water, then I wet and wipe the front and back with the breaking and splashing of ink, in order to depict the effect of water vapor. Cicada paper is thin and translucent, and after mounting, the smoke clouds drawn on the back of the painting center will be visible from the front of the painting, and appear to be looming in the background. As the dry ink splashes slowly shrink inwards, the parts that collide between the ink splashes will form mottled marks; then, I will add rocks.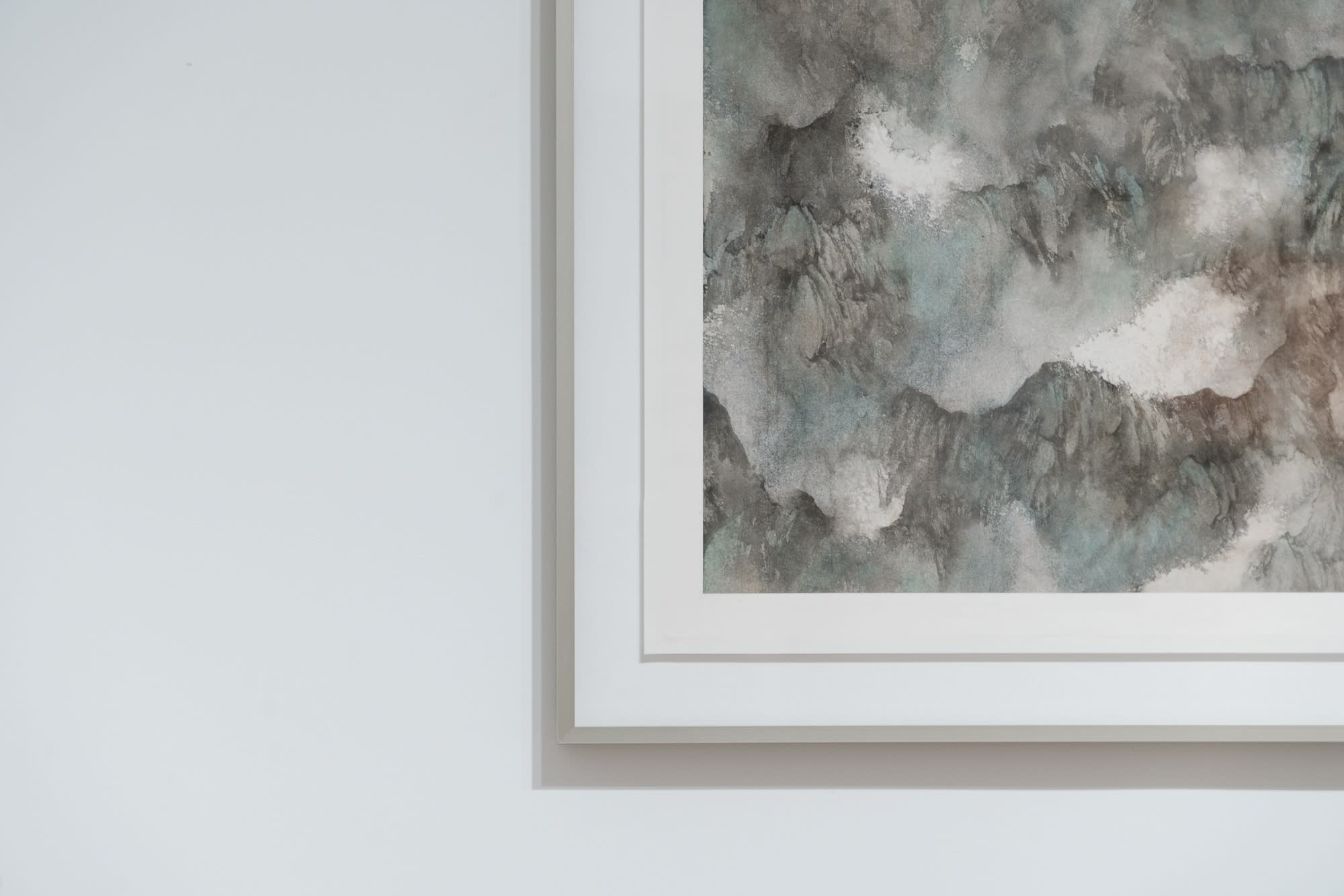 "The Rain Freshens", Installation View, ©THE FQM,2022
In another experimental work of mine, "Tracing," which I exhibited at Ink Asia, I cut sandpaper into circles and abrade paper in the render ink base. Every grinding motion of mine will cause the ink particles generated by the friction to be re-inscribed as a trace on the paper's surface. Ink marks appear and disappear. In the dark creative environment, I used the light track to record the traces on sandpaper. The motion track of the light records the strength, speed and rhythm of grinding. These movements can be heavy or light, slow or fast, and have the same effect as brush and ink.


Q: I know that during your postgraduate studies, you have thoroughly studied the context of traditional Chinese painting and calligraphy. Can you explain to us what you have gained through your academic research? You chose to continue your studies, and what subject did you choose?
A: Nowadays, I think the more a person sees, the less he realizes he knows. I think of all previous painting theories as the wisdom of the ancients that we have inherited. By sorting out what we know, we can synthesize additional knowledge from them. In my master's thesis, "The Changes of Chinese Landscape Painting Schemas," I sorted out and summarized the representation of and changes in landscape schemas of the twentieth century, and discussed their influence on contemporary ink painting. This is also related to my personal art practice, and it brings out my views and concerns on landscape schema.
(Left)C.C.Wang(1907-2003)© FQM(Right) C.C.Wang (1907-2003), Green Abstract, Medium: Chinese brush with ink and color on rice paper, mounted hanging scroll, Signed Wang Ji Qian 王己千, dated Jiazi chuqiu 丙子初秋 the Early spring in 1996, with one artist's seal. Size: 13 ½ x 26 ¾ inch.
Installation view of the Exhibition "New York Rhythms: C. C. Wang's Calligraphy" ©THE FQM,2022
For my Ph.D. studies, I focus on the artworks of the twentieth-century artist and connoisseur, C.C. Wang. I think people are too focused on Wang's art collection, rather than his artistic creations; and I hope to elaborate on the multifaceted nature of Wang's artistic practice. One the one hand, Wang's brushwork and understanding of traditional calligraphy and painting piqued my interest. On the other hand, I am very interested in his abstract calligraphy, which is not limited by words, focuses more on space and lines, and is closer to the inner thoughts of the artist himself. Although abstract creations do not have words, Wang 's works have intangible characters. An artist needs to have a solid foundation in and understanding of calligraphy in order to create successful abstract works like C.C. Wang's. Another reason for choosing him as my research subject is because Wang was one of the first teachers in the Department of Art at the Chinese University of Hong Kong and was also the department chair, so I think studying him is kind of like an inheritance of his knowledge.


"The Rain Freshens", Installation View, ©THE FQM,2022
Q: I learned that you are currently teaching at the School of Professional and Continuing Education, The Chinese University of Hong Kong, The Education University of Hong Kong and the Hong Kong Visual Arts Centre. Has your teaching experience brought any inspiration to your creation? What are your thoughts on the new generation of young people you are currently teaching?
A: When I teach, I mainly teach the traditional arts, and I can also practice while teaching. But teaching and writing are very different. I mainly teach the areas of "traditional Chinese art" and "New Ink painting." Although the course in New Ink painting follows the footsteps of Liu Guosong, I pay more attention to the mastery of traditional techniques by the students, which allow them to evolve and think on their own. I prefer that they practice the basics well, and then go on further to explore different possibilities. They can also choose to pursue traditional ink painting or new ink painting, or even other media.
Few students in Hong Kong take ink painting as their development direction. For example, when they graduate this year, there will be very few ink painting students. There are only a few universities in Hong Kong where students can study ink painting, and many of the professors teaching this at the Chinese University of Hong Kong have retired. I am currently on the road to becoming a professor, and I hope more students can appreciate the beauty and connotations of ink painting. Ink painting is a very quiet and slow medium, but the environment in Hong Kong is not like this. Many art students have just graduated and also have galleries or different opportunities to exhibit and sell their works, and so they attach great importance to visual effects. Many students do not continue to create ink paintings after they graduate; only one or two of these dozens of students may continue with it. My teaching does not require students to engage in making ink and wash creations, it is their choice.
| | |
| --- | --- |
| | |
(Left)Yau's Studio(Right)"The Rain Freshens", Installation View, ©THE FQM,2022
Q: What is your opinion on the concept of "New Ink" (Contemporary Ink)?
A: As a creator, I don't think it is necessary to define the category of ink painting that individuals belong to. Most of the time, the name serves the needs of academic discussion or the advocate's statement on the current situation. Generally speaking, the term "New Ink" appeared last century to distinguish it from traditional ink painting, with the hopes of adding new concepts, forms and techniques, and also to learn from Western art so as to find a way out for ink painting. To this day, many techniques have been used to form a certain style, but I have doubts about what is "new". We also need to deal with these issues carefully. In the mid-1980s, there were other terms that appeared in China, such as experimental ink, conceptual ink, abstract ink, and expressive ink. However, looking back at these, many expressions are still vague concepts. In fact, artists are often in a passive state, and their works were classified into a certain category of ink and wash styles due to exhibitions or literary theories. I often think that if an ancient painting was placed in a contemporary exhibition, some viewers would take it to be a contemporary work. People misjudge unfamiliar things under the influence of their environment or atmosphere. Therefore, some external concepts or vocabulary will not improve the quality of the work. The most important thing for creators to do is a good job in their own works, and to care about the topics they care about.
Author:
Christina Wu is a graduate student in Fudan University for archeology, focusing on conservation of paper relics and traditional paper making. She received her dual-bachelor's degrees in art history and Chinese language and literature at Hunter College. She is currently a gallery assistant and researcher in Fu Qiumeng Fine Art.
August 18, 2022