It is the responsibility of secondary market experts to grasp short term price changes, but it requires a little more patience and long-term planning to run a gallery focusing on the primary market. Unlike the classical Chinese art market, China's contemporary art market is still in its infancy: trading, donation, regulation, museum acquisitions, commercial institutions, and collecting networks are still being actively built and improved. Contemporary ink paintings, rooted in Chinese tradition, need to be promoted in tandem with the growth of the traditional Chinese art market. Paris was the world's art center in 19th century Europe. In the mid 20th century, along with the rise of the United States economy, the artistic center moved to New York, and abstract expressionism became the defining movement of its time and place. Abstract expressionism was linked to notions of democracy, individualism, innovation, and the desire to break free from the bondage of traditional forms of representation, and its symbolic role, signifying American ideals, helped the movement evolve into a backbone of the global art market. From my point of view, it is just a choice made by history.
Q: Why did you decide to open a gallery in the Upper East Side of New York? Is there a story about site selection and initial customers? In the past few years, were there any customers or exhibitions that impressed you?
A: Before 65 E 80th Street, I used to do pop-up exhibitions. Later, after the clientele became more stable, I decided to open a space in the Upper East Side's gallery district. This area is home to museums such as the Metropolitan Museum of Art and the Guggenheim and many private top-tier antique dealers and established galleries. Unlike the hustle and bustle of most of New York, this quiet neighborhood has a more historic feel.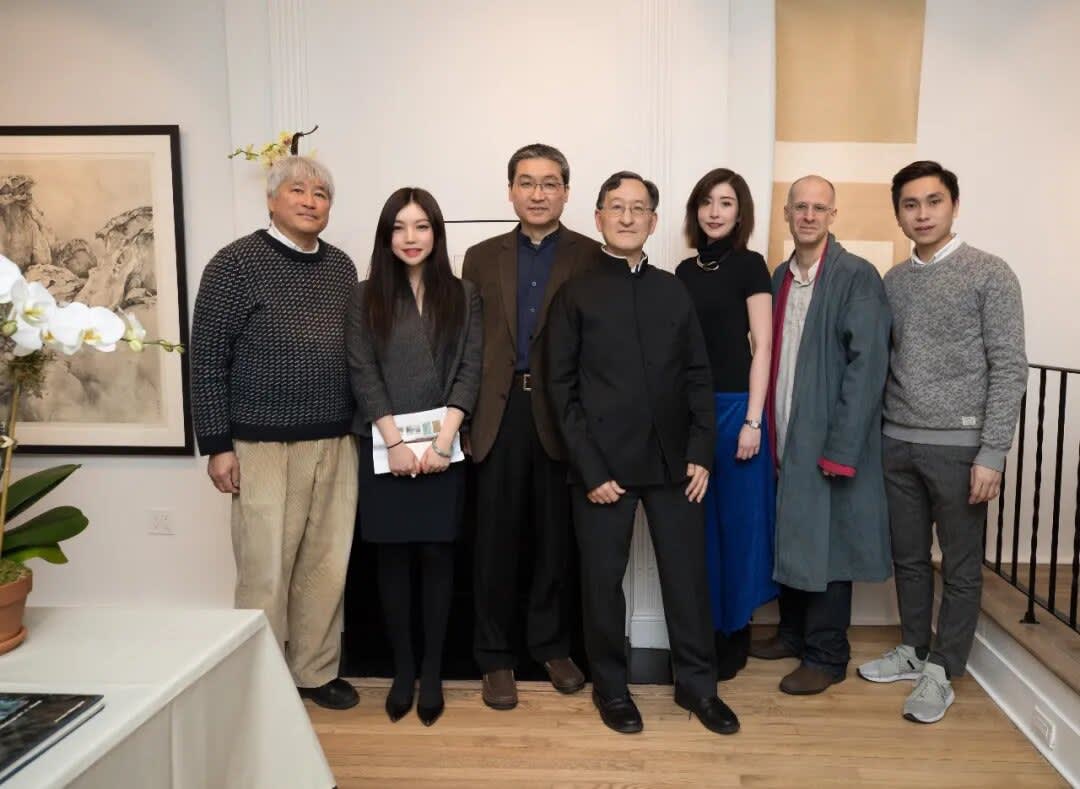 2017, Group Exhibition Purity of Mind Opening reception at the 65 E 80st new york space, From left to right are Wang Shaofang, Qiumeng, Wang Mansheng, Arnold Chang, Kelly Wang, Micheal Cherney, and Yau Wing Fung. | 2017年,65 E 80st新空间《澄怀味象》群展开幕现场,左起为王少方、秋萌、王满晟、张洪、Kelly Wang、秋麦、邱荣丰
Q: What exhibition/event has made a big impact or impression on your career?
A: In 2018, my classmate Guo Xinran and I launched the QM Project. She had just graduated from Northwestern University with a Ph.D. in Art History. We tried to communicate the links between traditional Chinese aesthetics and global modern and contemporary art in various exhibitions, talks, research, and publishing activities. Our joint research project is very important to me. It helped me identify issues in the superstructure of the art system. For example, artworks referencing Chinese tradition and classical aesthetics have diverse narratives due to rising from different origins within the existing discourse on global modern and contemporary art. We have jointly launched several more writing projects, such as QM Vignette, Bulletin, and Art News in Chinese, to provide gallery subscribers with a window to understand the relationship between Eastern and Western art.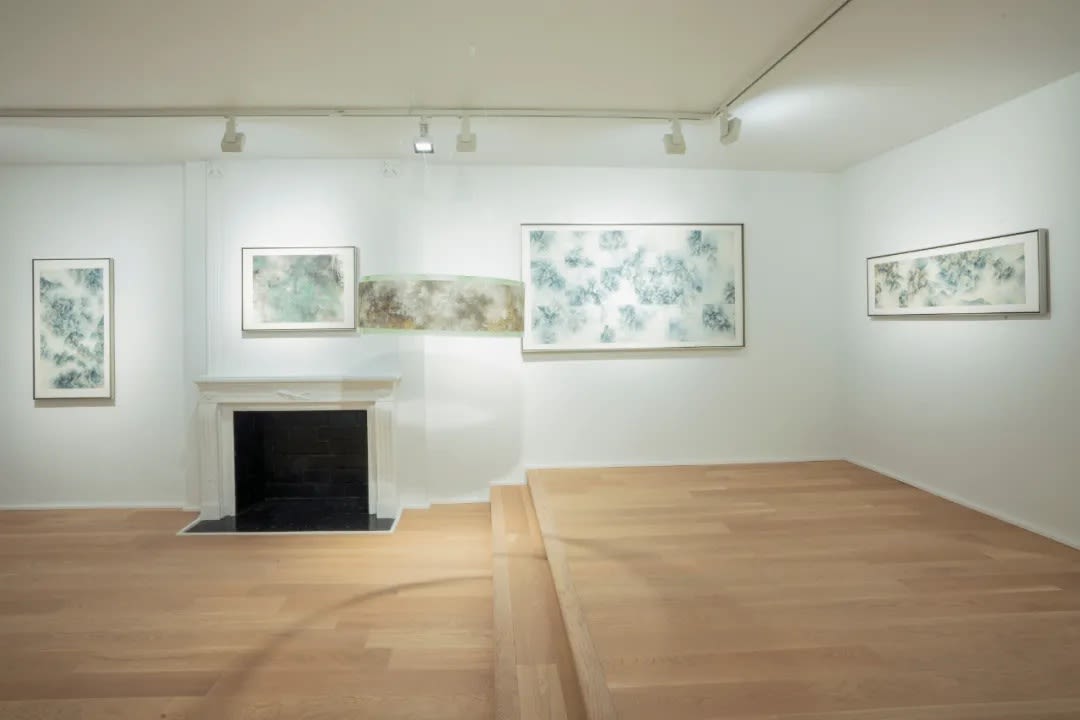 Later, we planned Tang Ke's solo exhibition "Fruits," Yau Wingfung's solo exhibition "All's Well, Ends Well," and Feng Mingchip's solo exhibition "The Null Set." One of the works in "The Null Set," The Word of Light, has been acquired by the curator of Asian art at the Art Museum of Chicago.
Q: Do you collect art? Whose art do you think is particularly important to the zeitgeist today?
A: The definition of the term "collecting" differs greatly between China and the West. In the history of Chinese art, collecting is a necessary part of both scholarly research and artistic creation. Therefore, the experts and scholars mentioned above are all collectors. Their lifestyle has had a profound influence on me. I collect works by each artist I represent, and I also collect some modern and ancient artworks.
At Qiumeng's apartment, Arnold Chang's work on the left and Shen Chen's work on the right. | 秋萌家,张洪(Arnold Chang)作品(左)、沈忱作品(右)
We live in an era of intense global, geopolitical, economic, and cultural changes and conflicts, and most of the value systems from the last century are in active transition. I think artworks serve as important witnesses to this dynamic historical period.
Q: Do you have anyone you can call a mentor? How have they influenced your career and the way you work?
A: I've had a lot of mentors and helpful friends along the way, and each of them has influenced me in different ways. The person I want to mention here is Mr. Shaofang Wang, the executor of the Wang Fangyu family estate. He is a professional in the finance industry, but his hobby is researching ancient Chinese gold and silverware. His father, Wang Fangyu, and his mother, Shen Hui, established the world's largest private collection of Bada Shanren works. They donated their collection to the Freer Museum in Washington, where the works attest to the power and influence of Bada Shanren's works for global audiences.
Thanks to Mr. Wang, I developed a more comprehensive understanding of the research direction and history of Asian art in American museums and academies. He helped me expand my vision of working in the art world, enabling me to think about the foundation and systems of the Western art industry from a research perspective and develop better judgment and a broader understanding of the field. These skills are crucial for an entrepreneur promoting Asian art in the West.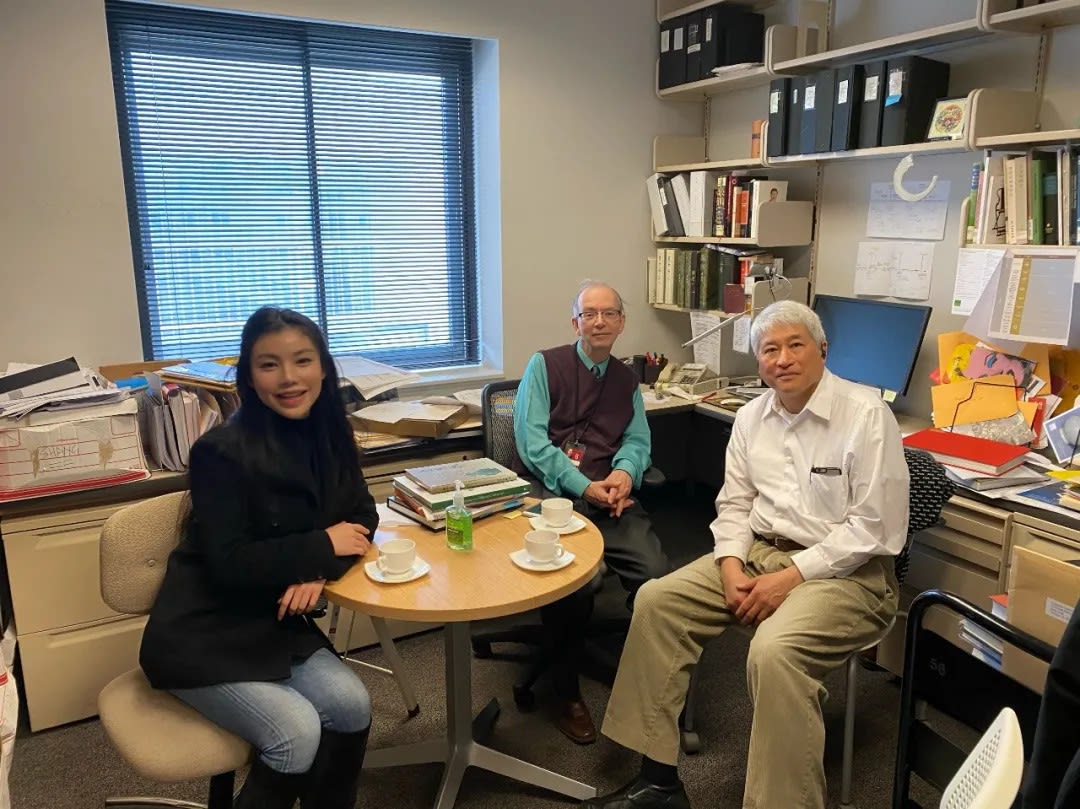 Art Institute of Chicago Asian art department, from left, Qiumeng, Colin Mackenzie, Curator of Chinese Art, Art Institute of Chicago, and Wang Shaofang | 芝加哥博物馆亚洲馆办公室,左起为秋萌、芝加哥博物馆中国艺术策展人Colin Mackenzie、王少方先生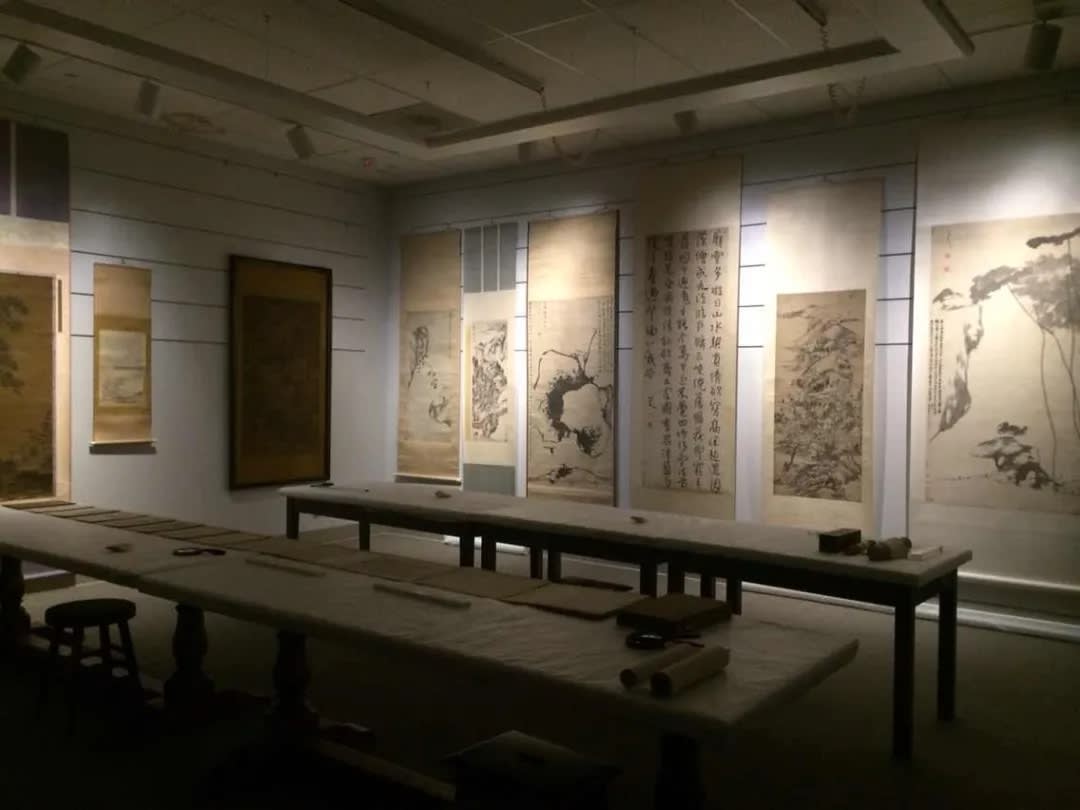 Visit Bada Shanren's works and ancient painting and calligraphy collection at the Freer Museum archival storage. | 在弗利尔博物馆仓库参观八大山人作品以及古代书画珍藏
Because of his trust, at the beginning of 2019, he handed me Wang Fangyu's accumulated manuscripts and research materials in hopes that I could help analyze and organize them. I proposed to write a research paper and organize potential exhibitions, but the magnitude of the work made me feel a lack of confidence. I told him: "I am not formally trained in art history, but Chinese art is my hobby. I truly want to analyze Mr. Wang's working methods and thought processes, but I can't guarantee the length of time I will need to perform the research and achieve results." He said humorously: "My father also started to study Bada Shanren because of his hobby. His job was teaching the Chinese language. Ancient Chinese literati were not professional artists either. They did everything; painting for a while, writing poetry, and retiring to live in seclusion. Although what they do are just hobbies, as long as they are willing to do it seriously, hey can always make something."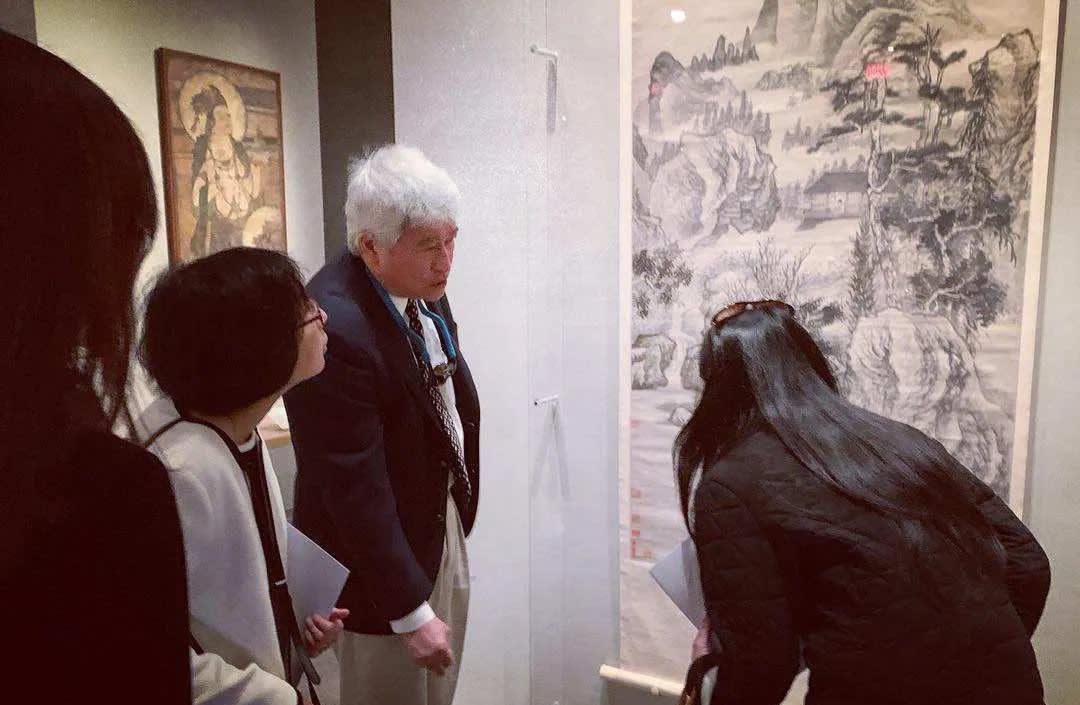 Princeton University Art Museum, Wang Shaofang's wife (second from left), Wang Shaofang (third from left), and Qiumeng (first from right) | 普林斯顿博物馆,王少方夫人(左二)、王少方(左三)、秋萌(右一)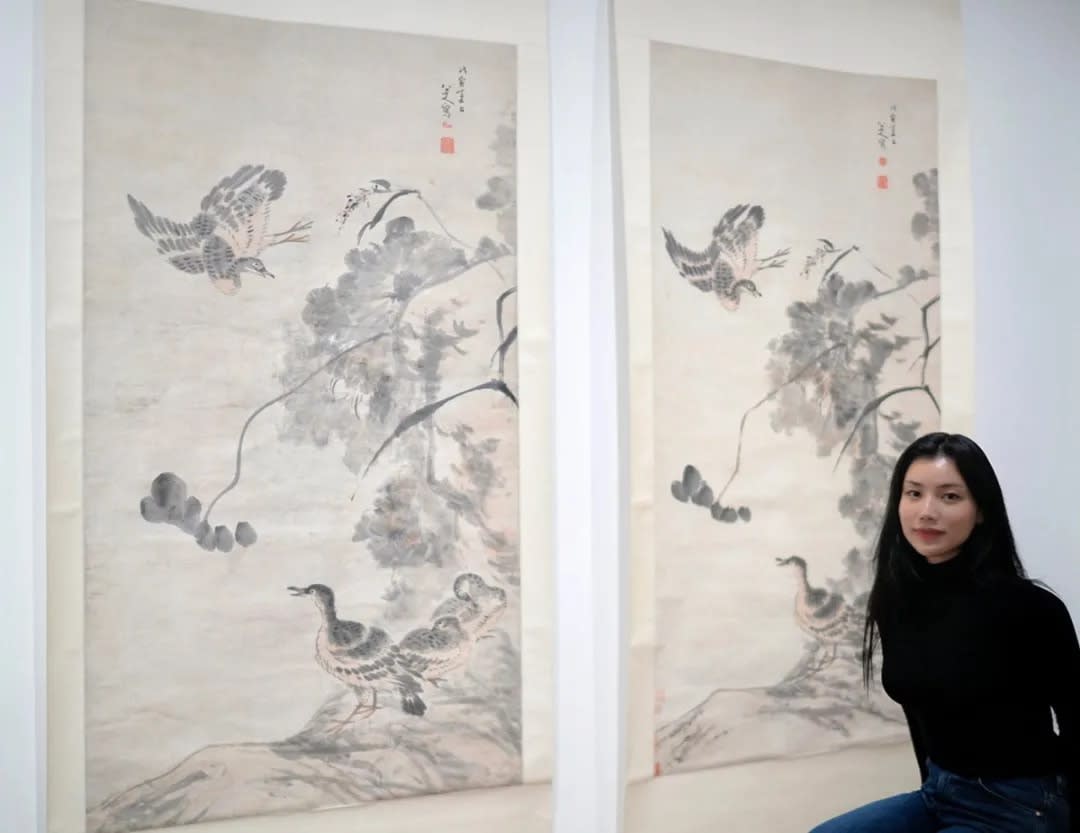 Wang Fangyu will collect some forgeries and genuine works for comparative study, the picture on the left is Zhang Daqian's forgery of Bada Shanren – Four Geese, vertical scroll, ink on paper; the picture on the right is Bada Shanren's Four Geese, vertical scroll, ink on paper | 王方宇会收藏一些伪作和真作进行比较研究,左图为张大千作伪的《八大山人-荷花水鸟图》,立轴,墨笔,纸本;右图为八大山人《荷花水鸟图》,立轴,墨笔,纸本,1698
Wang Fangyu will collect some forgeries and genuine works for comparative study, the picture on the left is Zhang Daqian's forgery of Bada Shanren – Four Geese, vertical scroll, ink and brush, on paper; the picture on the right is Bada Shanren's Water Birds with Lotus Blossoms, vertical scroll, ink and brush, on paper, 1698
His words finally answered the first question I asked myself in my career – how to choose between profession and hobby: Career need not be an either/or choice. It depends on who we ultimately want to become, and it is achieved through continuous learning and practice.
After two years, we finally presented the archival exhibition "How does a Chinese Connoisseur work? Fangyu Wang's Research on Bada Shanren."
Q: What do you think is the biggest misconception about the art world?
A: I don't think there is any misunderstanding about the art world. Everything is a very vague mystery when you look at it from the outside. But as long as we seek truth from facts and adhere to the pursuit of truth, we can clear away the fog and find something relatively stable, something weighty with a solid core. In the Chinese art tradition (which is not as narrowly defined as the modern international art market), there is value in retaining the historical perspective and engaging in learning and researching.
Q: What advice would you give to yourself at the beginning of your career?
A: Art professionals should have extraordinary creativity, just like artists.
In "Career Stories (职场故事)" published on Artnet News (Artnet新闻), Artnet News interviewed Fu Qiumeng about her career trajectory. She talks about how she switched from the advertising industry to the auction business, her notion of entrepreneurship in the art world, her understanding of contemporary ink, the people who have mentored her along the way, and the founding of Fu Qiumeng Fine Art. She emphasizes the importance of approaching art from the perspective of Chinese literati, a necessary condition for understanding one's cultural identity in the globalized present. She also talks about her thoughts about career choices. As she said, "career may not be an either-or choice. It depends on what kind of person I ultimately want to be, and it is achieved through continuous learning and working."