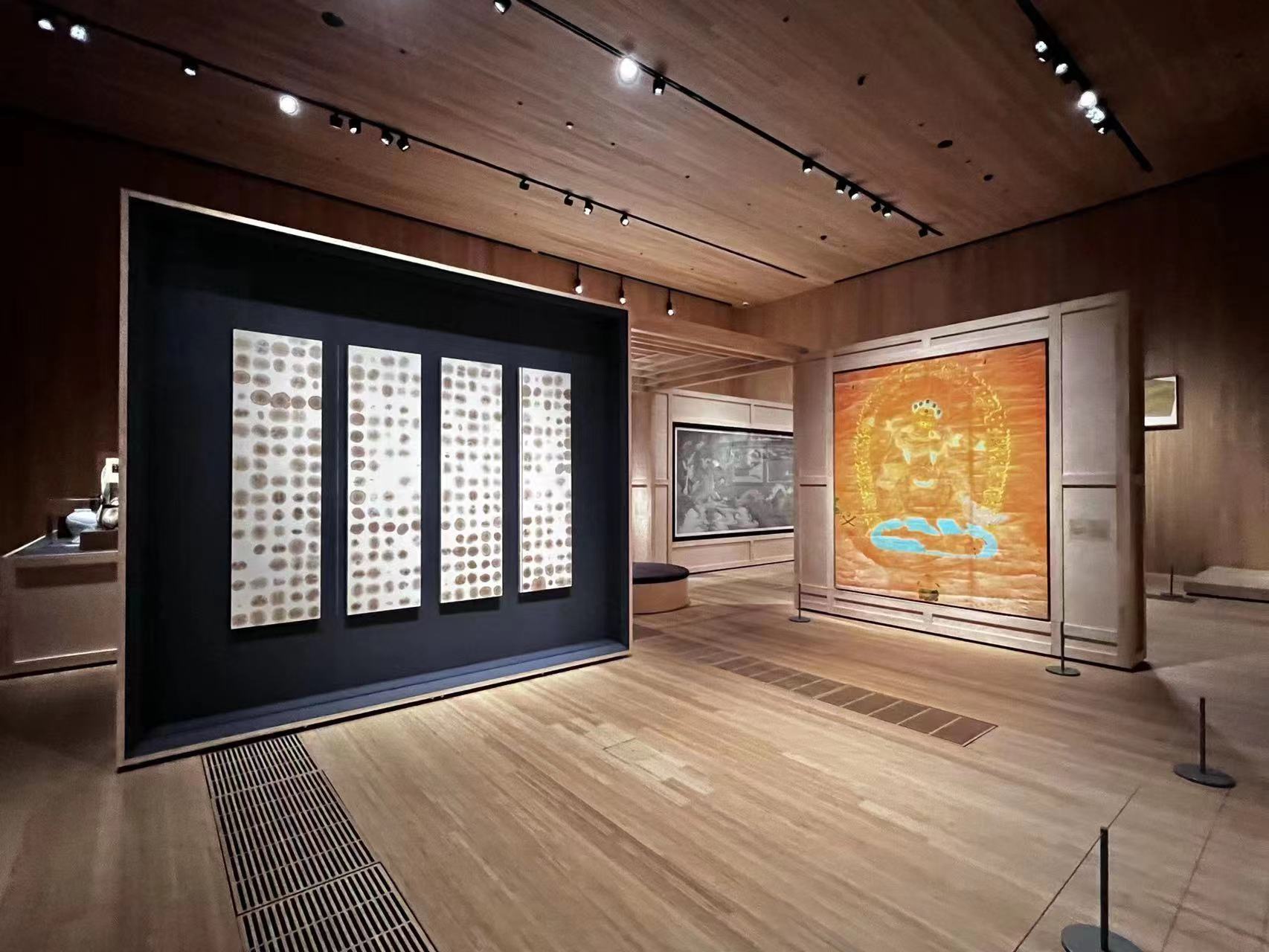 Installation view © Courtesy of Artist

Current exhibition The Dream of the Museum at M+ Museum, Hong Kong explores the concept of chance and found objects to show how artists use cultures as source material to update tradition. The exhibition brings together works by celebrated masters like John Cage, Yoko Ono, Nam June Paik, and acclaimed contemporary artists such as Danh Vo, Lee Seung Taek, Morimura Yasumasa, and Zheng Guogu. The show reimagines the museum and its collection as a treasure box that allows the viewers to discover the world in new ways. The exhibition features Liang Quan's Tea and a Little Coffee (2001) from a total of eight works by Liang that are in the museum's permanent collection.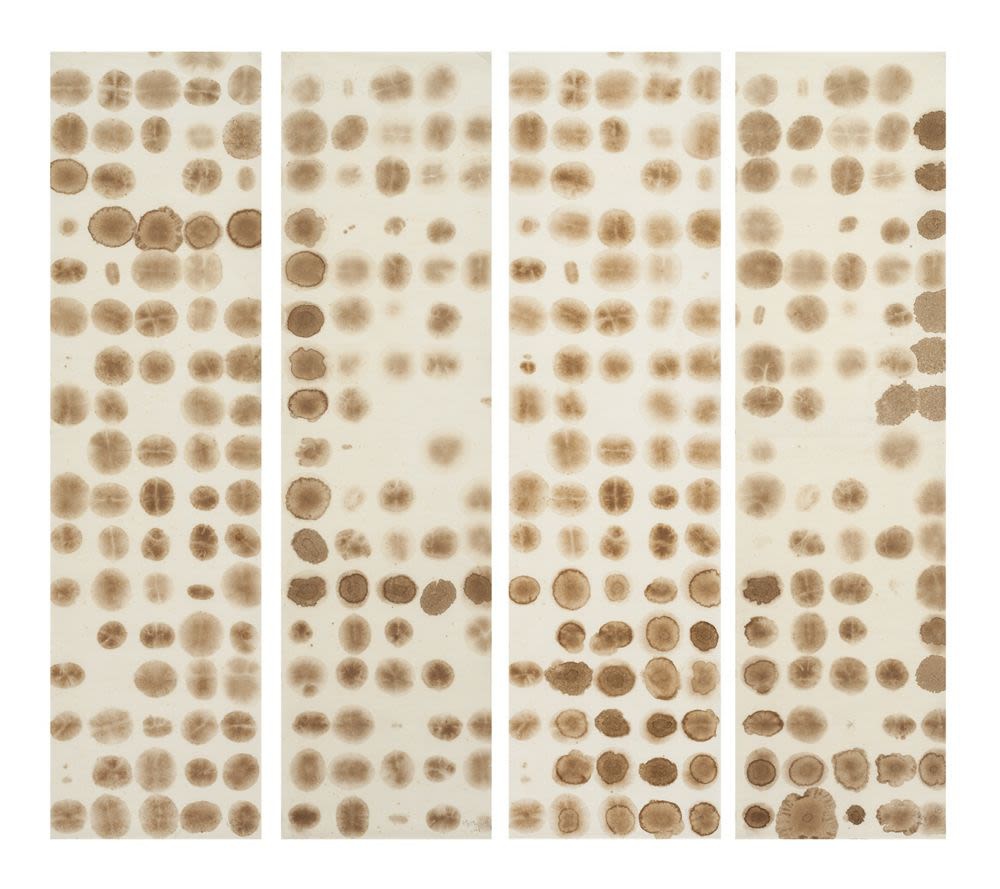 Liang Quan, Tea and a Little Coffee, 2001, tea and coffee stains on rice paper, overall: 182 × 206 × 5.6 cm; each: 179 × 48.2 cm

The inspiration for Tea and a Little Coffee came from the time when an accidental spill of tea left subtle stains on the tablecloth, which led to a series of experiments with tea and coffee as primary agents of mark making. The materiality of the liquids left its imprints on the white rice paper in the form of various shades of browns, one after another, fading in and out. The exact appearance of each imprint was not the result of careful designs and executions, but chanced upon, using found materials from everyday life, which imbues the work with feelings of spontaneity and freedom. The quadriptych format and the overall composition are reminiscent of calligraphy hanging scrolls. Like writing, which carries an intrinsic sense of sequence, Liang's "stains" also follow the logic of one thing after another, a simple yet powerful rule that serves as the guiding principle for certain meditations. The mundane and repetitive nature of the action, however, gives rise to a heightened state of focus and calm, which provides the foundation for attaining a certain sense of Zen.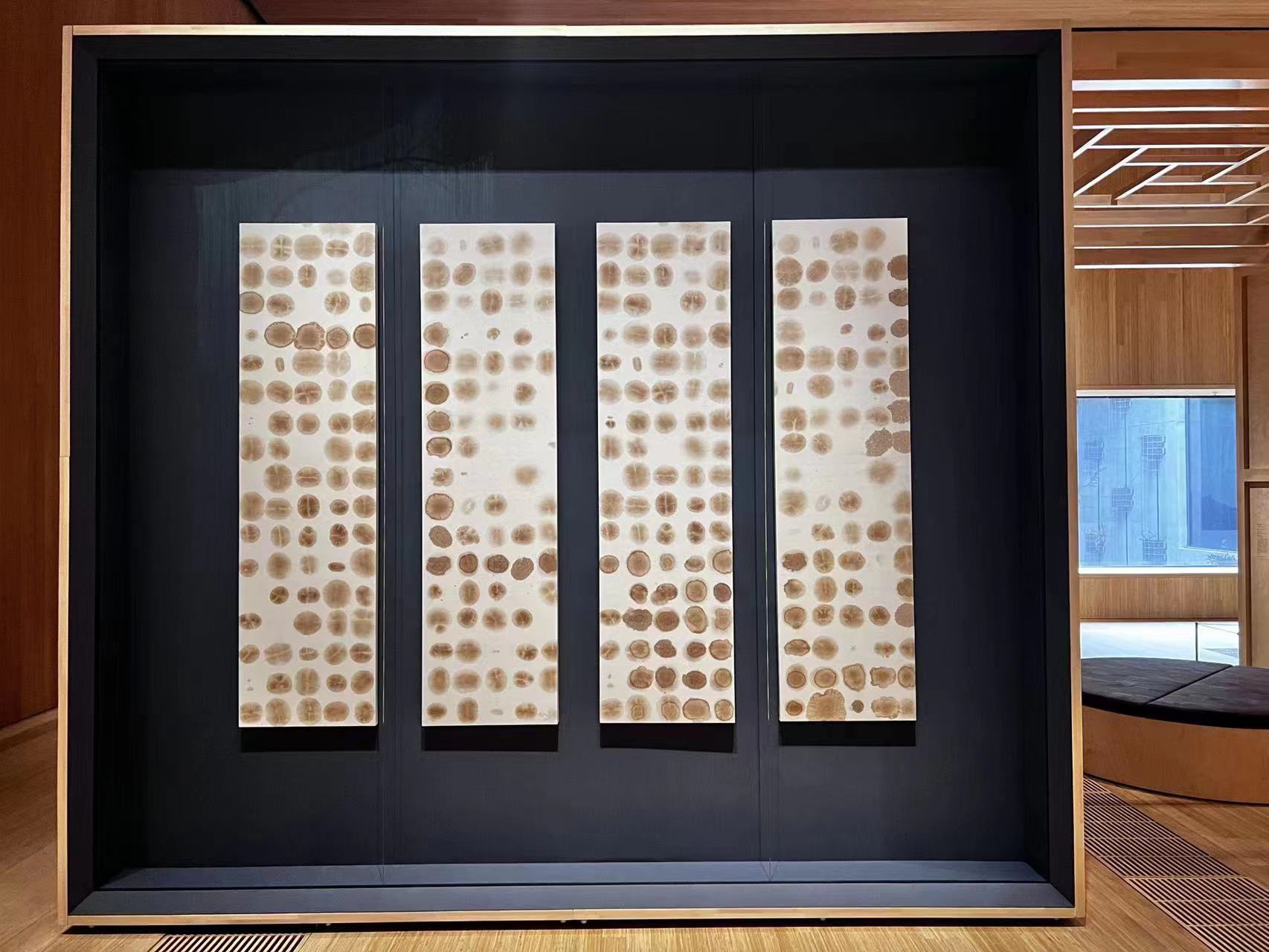 Installation view © Courtesy of Artist

Liang Quan (b. 1948, Shanghai) graduated from the Affiliated Middle School of Zhejiang Academy of Fine Arts in 1968. In 1982, he received an MFA degree from the Academy of Art College in San Francisco (currently the Academy of Art University). Liang taught at the China Academy of Fine Arts after returning to China. He now lives and works in Shenzhen. When studying in the United States, Liang became interested in abstract paintings, including the works of Hans Hofmann and Jackson Pollock, as well as those of neo-expressionists. When creating his graduation piece Tribute to Tradition (1982), Liang collaged pieces of paper that had been torn, cut, and painted, juxtaposing abstract color blocks and figurative details. Liang usually creates his collage based on a drawing. In the process of collaging, Liang keeps adjusting his compositions till they reach a satisfactory visual effect, a working method the artist has maintained up to the present.
Liang Quan's works are widely exhibited and collected. Major exhibitions include La Grande Astrazione Celeste at Rome Museum of Contemporary Art, Rome, curated by Achille Bonito Oliva, and Biennale of Sydney, Sydney, and solo exhibitions at University of San Diego, San Diego, Kunst House, Nuremberg, and Hive Center for Contemporary Art, Beijing. Liang's works are in the collection of British Museum, National Art Museum of China, Shanghai Museum of Art, Zhejiang Museum of Art, Hong Kong Museum of Art, Collection Louis Vuitton, and Neue Staatsgalerie.
M+ is a museum of visual culture in the West Kowloon Cultural District of Hong Kong. It exhibits twentieth and twenty-first century visual culture encompassing visual art, design and architecture, and moving image. The M+ Collections focus on twentieth- and twenty-first-century visual culture, encompassing the disciplines of design and architecture, moving image, and visual art, and the thematic area of Hong Kong visual culture.



EXHIBITION OVERVIEW
The Dream of the Museum

Courtyard Galleries, M+ Museum, Hong Kong

November 12, 2021 - April 23, 2023
August 18, 2022